Aries is an Independent Registered Investment Advisor, our clients are served with the highest level of independence and objectivity through a consultative based approach that examines all aspects of their financial lives. We put our clients interests above our own or those of our firm.
Philosophy: Our main strategy remains one of steadfastly focusing on risk-adjusted returns, respecting capital preservation and the need for income in the client portfolio.
Our Goal: To outperform the Russell 3000 over a full market cycle, which typically lasts five to seven years, suggesting a minimum time horizon for our investors.
Our Relationships: Through our relationship with Fidelity Institutional Wealth Services we have the full resources of a large, multinational financial services firm.
---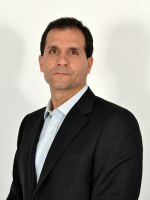 Emmanuel Tsantes, CFA
Phone: 516-368-0990
E-mail: etsantes@ariesadvisors.com
Emmanuel Tsantes, Managing Director, Financial Advisor has been registered since 1994 and founded Aries Investment Advisors in 2010 after serving at Raymond James for 7 years as a financial advisor and branch manager. Prior to Raymond James,  Emmanuel spent two years with leading mutual fund company Dreyfus and began his career at Axiom Capital Management, spending seven years at the boutique investment firm. Emmanuel earned his bachelors and masters degrees from St. Johns University and he earned the right to use the Chartered Financial Analysts (CFA) designation in 2005. As a CFA charterholder, Emmanuel is committed to the highest ethical standards promoted by the CFA Institute. Emmanuel specializes in helping client's structure long term, low turnover investment portfolios that are tailored to accommodate the client's own level of risk tolerance. 
Click on the links below to learn more: